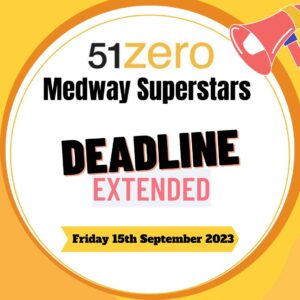 'Medway Superstars' – Call for Artists STAGE 1- DEADLINE EXTENDED
We are thrilled with the applications we have received for the Medway Superstars Project, thank you to everyone that has applied so far!

We are excited to be able to open the application process again for a further three weeks so please help us to spread the word.

This project has a strong connection to INTRA, the High Street that stretches from Star Hill, Rochester to Sun Pier, Chatham. Therefore, for us to meet our criteria and gain a wide selection of applicants that are based in or undertake their artistic practice in this area, we are extending the deadline to enable and encourage diverse applications.

Additionally, we are aware that there were some difficulties with the link to the application form so we have made some improvements and have extended the deadline for all applicants.

Applications are now open until 15th September 2023.

ARE YOU AN ARTIST LIVING / WORKING IN MEDWAY? 

Medway Superstars, is a project by 51zero showcasing and mapping the creative talents of artists located/based across Medway – from those in the early stages of their careers, to those who are internationally renowned.

This is STAGE 1 in the development of this ambitious project advocating the value of the artist's role in local urban and cultural regeneration. This will be delivered in three stages (Between 2023 – 2030). The aim is to represent all of Medway's artists by 2030 (end year of the present Culture Strategy, that was written collaboratively and led by Creative Medway). We will also create a tool for future artists to be included in the map post 2030.

WHO ARE WE LOOKING FOR?

Lead artist Margherita Gramegna-Taylor, is inviting artists from all areas of Medway to apply.

The project is about Medway artists. By 'Medway artists' we mean anyone who practises an art form as their career and has a strong connection with the area. They should have contributed to or currently be contributing to Medway's cultural landscape with their art practice. This includes those in the early stages of their careers to those who are internationally renowned.

This can be in any medium; visual arts, music, digital arts, theatre, dance, poetry, writing, sculpture, (and more!), whether that's two-dimensional, three-dimensional, or digital media.

WHAT WILL HAPPEN?

For Stage 1, we are looking to select 10 submissions, however, the aim of the full project is to represent all of Medway's artists, therefore, submissions that are not selected for STAGE 1 will be considered in STAGE 2 and 3.

We will work with the selected artists to capture the essence of who they are and what they do.

51zero will produce a filmed portrait of each of the ten selected artists, as well as a film of edited portraits bringing the individual films together.

Each selected artist will be invited to an informal discussion with the lead artist about how their film will be shaped.The process will be an artistic one. Interviews will be both formal and playful, expressing the artists' relationship with the place they live/work, and their ambition for culture in Medway over the next 10 years.

Each film will be between three to five minutes final length and will be filmed by a two person crew (lead artist and a DOP) at the sites chosen by each artist, within the five Medway towns including the Old High Street INTRA.

We envision that each selected artist's participation will take a total of one day, divided into two half days for informal discussion and filming.

Each participating artist will receive a digital copy of their interview to use for their own social media platforms and publicity. There is no fee attached to STAGE 1 however we are planning further stages (STAGE 2 and 3), which – if funding applications are successful – will have fees for commissions built in for all the participating artists including those of STAGE 1.

SHOWCASE

Current plans are for the films to premiere at prominent festivals and events in Medway throughout 2024 such as Festival 2024, Light Nights, Estuary Festival and Electric Medway Festival -with the aim of also being exhibited nationally and internationally. Additionally, video installations will be displayed across Medway during spring/summer 2024.

LEGACY AND IMPACT

The aspiration is that, longer term, the STARS MAP (Medway Artists Platform) will become an archive and a way of sharing the wealth of talent across Medway, supporting the Cultural Strategy's ambitions for artists / creatives over the next 10 years and beyond.

STARS MAP will constitute a live & growing map of local creative activity that will enable access to new talent in the future, forming a living legacy, in parallel with local regeneration.

Initially, the films will be housed on prominent websites such as Creative Medway, Old High Street INTRA and 51zero. The films will also be hosted on Medway Council social media channels and website where possible.

In STAGES 2 and 3, a new purpose-built platform will be developed to host artist profiles, interviews and other related content. The STARS MAP will be representative of the increasingly high-profile role Art will play in Medway.

WHEN – TIMELINE

Submissions must be received by 5pm on Friday 15th September.

The panel will meet and we will let people know decisions either way by October 2023.

Filming will commence in October 2023.

HOW TO APPLY

To apply, please submit an application using the online form below. Please note that you must have your practice based in Medway/live in the Medway area.

Please describe your relationship with Medway, including a place within Medway you feel a particular affinity with and that is culturally meaningful to you.

In this first stage, we have a particular focus on the Old High Street INTRA area of Rochester and Chatham. Please tell us in your application if you have a connection to this area.

We aim to reflect the diversity of artists of Medway and aim to make this an inclusive process. Applications are welcome from all ages (18+), identities, abilities, cultures, communities, experiences and backgrounds.

Your application should include material that best profiles your artistic practice. This could include a link to a websiteor instagram / online profile or please upload some images / material you feel is representative of your work.

DEADLINE

Please send your application by 5pm on Friday 15th September 2023.

We aim to be in touch by October.

SELECTION

A consultation panel formed of local and external practitioners across the creative sector will support 51zero in the selection of the chosen artists. Decisions will be based on artistic practice, suitability for the film process, as well as geographic spread across Medway. The selection of applicants will reflect local diversity with a view to curating a piece for Stage 1, that is representative of the ambition for the planned full project.

For more information or guidance with your application, please contact office@51zero.org  with the subject line:

Artist Name – 51zero – STARS MAP – CALL FOR ARTISTS – APPLICATION – STAGE1

Notes to Editors: 

'Medway Superstars' is funded by Arts Council England, with support from Old High Street INTRA Cultural Consortium, Historic England HSHAZ project, Medway Council, See & Create CIC , 51zero and Cement Fields as part of Estuary 2021.